Innovation as a management discipline and its application in everyday work life has become synonymous with growth and sustainability. As advocated by innovation guru Gary Hamel since mid- 2000, there is a good understanding that Innovation in management principles and processes can create long-lasting advantage and produce dramatic shifts in competitive position[1].
Considering the current Covid-19 pandemic and its effect on companies, it is clear that the world as we know it has irrevocably changed and that it is harder to make ends meet than it ever was before. Organisations need to work twice as hard to just stay afloat and they need to do this amidst shrinking budgets and resources.
Yet, business research seems to suggest that it is getting increasingly important to invest in innovation in turbulent times.
A recent business survey by McKinsey & Company boldly shows that companies that invest in growth projects throughout the economic cycle emerge ahead of the pack, generating almost 17 percent higher total returns to shareholders (TRS) coming out of a downturn, than businesses that hunker down during a crisis.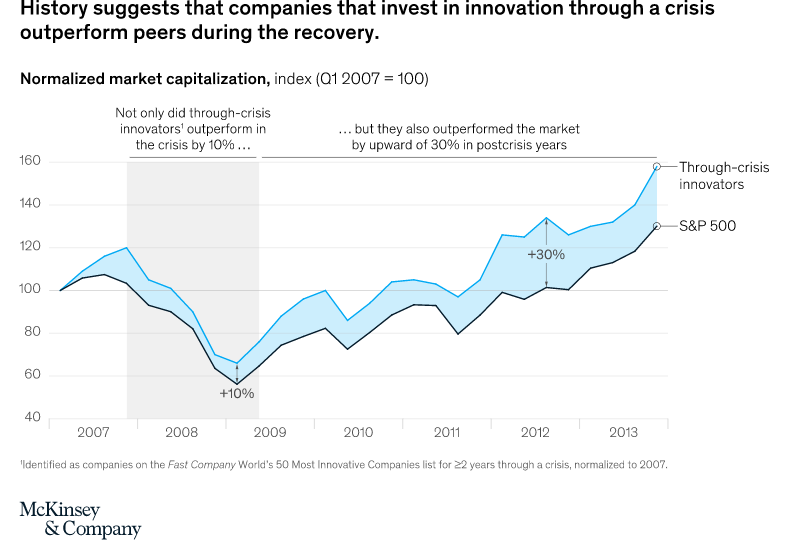 Figure 1: Companies that invest in innovation in crises times outperform peers (McKinsey& Company 2021)
Making innovation work in a downturn requires a new mindset and a fresh response by leadership, together with a clear understanding that small steps are better than no steps – and that the opportunity cost of not innovating will potentially be a lot deadlier.
According to McKinsey, organisations that use innovation to outperform their peers in times of crisis and beyond focus on a couple of things, they:
Prioritise speed over precision
Embrace and manage risk and
Prune tasks and sharpen their focus on value to the market
From my experience, there is a fourth area of focus that separates winners from losers. It is the organisation's innate ability to find ways to repeatedly add value to customers while continuously looking for new opportunities to build a pipeline of future potential. Innovation is not a once-off project, it calls for repeatability. This inherently points to systems, processes and structures and a good understanding of innovation.
Interestingly, McKinsey's research hails what they call a proven recipe for sustainable innovation and it is linked to a systems approach. It answers the question often asked by executives: "How do we accelerate the pivot to growth?"
In other words,
What does our organisation need to do today to ensure that we create new growth quicker? How do we do that more often and with greater success so that we steer the organisation in the direction that it should go as quickly as possible?
The answer to this question, according to the research, lies in the fact that successful innovators invest in building sustainable delivery systems for innovation. A good understanding of the market will drive focused innovation efforts[i] and bring profitability and longevity yields, but it requires careful alignment of organisational resources, plans, operations and an innovative culture to remain relevant and at the forefront of change.
Despite the understanding of strategic advantage when we lead in innovative ways and an emphasis on the use of innovation to build resilience, very few organisations have really taken the time to effectively embed innovation practices. Many have vague, undefined or unrealistic goals and innovation programmes that fail to generate valuable returns.
To be effective, organisations need to build innovation capability and flexible innovation management systems while learning from past mistakes. The question often is where to start?
Innovation as a repeatable capability
Debates can be had on the newly developed ISO 56000 series of innovation management standards and what it means for the organisation of the future. One thing is clear, it does provide relevant guidance on how to be better at innovation. It describes how to effectively build a system that is geared for driving deeper and more impactful results. It underlines the notion that innovation approaches, systems and delivery mechanisms need to be flexible, yet propel the organisation to arrive at more focused innovation outcomes.
Understanding innovation competency better and bringing your people on board to participate and elevate growth in the organisation is a leadership responsibility. It signals future-focused leadership while demonstrating to stakeholders that the organisation is building an innovation premium – i.e. it shows that your organisation can be trusted to continue to drive future growth and relevance in the market beyond your current market offering and assets.
7 key elements when growing innovation
It is for this reason that Innocentrix aligns our training and skills development focus areas to certify against the ISO 56002/SANS 56002 innovation management standard. It presents guidance around 7 key elements for organisations to consider when wanting to effectively manage and grow an innovation capability (it also represents the building blocks of the organisation's innovation system). These are:

From: ISO 56002/SANS 56002, Innovation management – Innovation management system — Guidance
It is further based on eight key innovation management principles seen as the foundation of the innovation management system, as illustrated below.

From: ISO 56003/SANS 56003, Innovation management – Tools and methods for innovation partnership – Guidance
It is important for organisations to understand innovation management from a systems perspective as all activities are interrelated. Integrating the above principles into the way you view, manage and execute on innovation is imperative for increasing chances of success.
How do leading innovators shine?
So, what will leading innovators of the future do that will make them shine? It seems that the answer to this question will greatly reflect the organisation's appetite for
building an innovation capability,
knowing how to repeatedly create differentiated value in an ever complex marketplace while
creating an effective innovation management system.
In the end, success centres around alignment between vision, people and systems as illustrated below.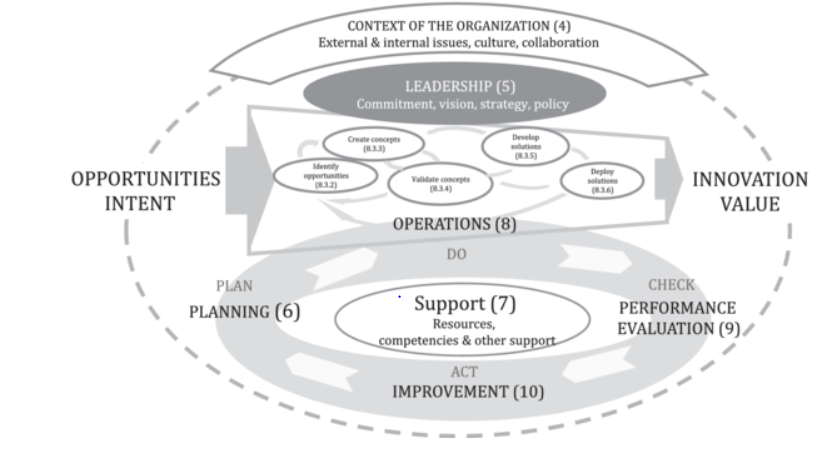 Figure 2: Components of the organisation's innovation management system (source ISO:56002)
Building a repeatable innovation capability does not happen in a linear, rigid, step-by-step manner and it is highly unlikely that two organisations will tackle innovation in exactly the same manner. The good news is, every small step counts and learning organisations understand this.
So where to start?
One could say that designing the organisation's innovation system and then formulating an Innovation Strategy stating the business case for innovation and an accompanying implementation plan is needed first. This is true, but it possibly can take several months to construct and several more months to get approved and implemented.
In the meantime, as you are gearing your organisation for resilience by addressing the drivers of innovation success and putting in place the building blocks of your organisation's own innovation system, obtain leadership support for your actions as early as possible, then get practical as soon as you can.
Here are examples of practical questions you can ask to get you out of the running blocks:
Who is the innovation champion/sponsor in a senior position that can help create buy-in and support for innovation in the organisation?
What stops innovation in the organisation right now? Prioritise the most detrimental barriers then design a plan to overcome them.
What is our vision for innovation (including its definition) and how do we define and communicate this to the organisation?
What tools and capabilities do we have at the moment that we can use to kick-off innovation in the organisation today?
Winning organisations are agile and flexible in their approach to innovation, they regularly question their value creation logic and look for new ways to delight their customers. This type of repeatable innovation does not get left to chance.
Do you have the vision, people and systems to accelerate your organisation forward to ensure its future relevance?
Start by developing your people's skills and building a repeatable innovation capability through a certified innovation training programme or click here to ask us how your organisation can reimagine where to play and how to win in the market of the future.
***
Henra Mayer is the CEO of Innocentrix, a leading South African innovation company that helps clients to ignite imaginations and processes to deliver future-orientated products and services.
Contact Henra here. Follow Innocentrix on LinkedIn, Twitter, and Facebook, or email info@innocentrix.co.za. See www.innocentrix.co.za for more information.
[1] https://hbr.org/2006/02/the-why-what-and-how-of-management-innovation
[i] https://www.jpmorgan.com/commercial-banking/insights/build-business-longevity