Making Innovation Happen – The Trends in Effective Innovation Management
"I think frugality drives innovation, just like other constraints do. One of the only ways to get out of a tight box is to invent your way out." – Jeff Bezos
Making innovation real is about more than focusing on the latest technological and business trends. Strategising to incorporate robotics, artificial intelligence (AI), data driven connectivity and the Internet of Things into your corporate strategy will not make your business grow. Building, and managing for a capability of continuous, repeatable innovation might.
Innovation goes beyond being aware of the impact of the Fourth – or even the 5th Industrial Revolution. It contemplates the world we work in without borders and it does not confine itself to traditional business models, or the conventional business strategies and methodologies that we have grown so accustomed to.
If anything, the recent COVID-19 pandemic put things into perspective. While the world is still coming to grips with its far-reaching consequences, waging a war on the silent, deadly enemy – no one can deny the effect it will have on how we think about work, collaboration, growth and the way we interact with the environment around us.
In the same manner, times of unprecedented change brings to the fore the role of effective innovation management, and it asks hard questions on how we plan to lead and imagine the future.
Frugality drives innovation
As Jeff Bezos neatly points out, frugality drives innovation. The only way to get out of a tight spot – more often than not – is inventing your way out of there. Making innovation happen in the organisation has never been easy, or even steadfast in its promise of growth and success. In a fast paced VUCA (Volatile, Uncertain, Complex and Ambiguous) world it is however becoming an essential capability for organisations.
Fact is, organisations that do not effectively build an innovation capability, pay a price for not doing so. Doing nothing can be very expensive. If investment in innovation activity is low, expect returns to be as well. If building innovation capability in times of unpredictable, sometimes downright scary change is not a core focus, expect to be wiped aside next time a global crises, disruptive start-up or black swan event strikes. Like the COVID-19 enemy quietly lying in ambush, irrelevance does not ask questions about who you are, your cash flow status, your organisation's age, or even the social standing or respectability of your leaders. It just strikes. Ruthlessly.
So what then are the business and technology trends we expect to shape our future world, and how can we get a better grip on systematically managing innovation in our organisations?
Innovation management is not about the bling, it is about people
We can talk technology, blockchain and cyber currencies, neurotechnology and gene-editing advancement, or focus our efforts on driverless cars and living on Mars. The world is changing at a phenomenal pace. According to Gartner[1] a 100 million consumers will shop in augmented reality by the end of this year and by 2021, over 1 billion people worldwide will regularly use an AR/VR platforms to access apps, content, and data says IDC Research.[2]. But progress and the face of the future does not get shaped by technology alone, as we know – it is mostly about people, and it is here that our innovation management approaches fall appallingly short.
In the hype of the shiny and new, it is easy to overlook the people component to being successful at innovation, and that could be a fatal mistake. According to the World Economic Forum, emotional intelligence, creativity, and people management skills are three of the top 10 essential attributes a leader will need to possess in the organisation of the future. This then begs the question, how are you addressing skills development to equip your organisation for leading in the future, and how are you exposing your people to what is happening in your industry, so that they can think about innovations that would be relevant and strategically on point to get you there?
It is about non-technical innovation, global systems and environmental sustainability
Recent research by Huber and Hecker[3] reinforces a view on the fundamental dimensions of the importance of non-technological innovation, innovation dynamics and global systems of innovation. They also believe that the substantive trends to shape the way we manage innovation are managing innovation for environmental sustainability and digital innovation.
The importance of non-technological innovation
The narrow populist view that innovation mainly refers to technological innovation or new products and production processes is outdated. We know that it is also applicable to services, and that it applies equally to a firm's organisational structures, administrative processes and managerial practices. It is however the latter, also from an Innovation League perspective, that we see not receiving enough attention, strategic intent or resources.
For the future of innovation management, the following key issues, according to Huber and Hecker, are of the utmost importance:
Investigating the drivers of non-technological innovation;
Determining interdependencies between factors and processes leading to innovation and how it is supported by various innovation types;
Determining the impact of organisational innovation on firm performance.
Innovation Dynamics: Innovation is not a standalone activity
Innovation is a dynamic phenomenon. Projects cannot be managed or analysed in isolation, but must be understood from the context of other activities and objectives. It points to a systems approach to make innovation work better. The organisation must also integrate the interdependencies of innovation success with the design of an environment that supports long-term impact on the organisation's innovation performance.
Global systems of Innovation: It is about networks
The external environment matters. Local, regional and national environments are important but it is how we engage with the global environment that is vital. As evident from recent world events, we are all connected.
Global networks and global innovation systems are imperative for growth and learning, but exactly how to effectively engage, establish and maintain global networks will be the main challenge for organisations today. Organisations that get this right will not only be leading change, but will see the greatest impact on their bottom lines.
The importance of collaboration and the interconnectedness of the ecosystem is the main reason that the Innovation league focuses on, supports and measures activities related to collaboration, networking and engagement through all stages of the innovation life-cycle.
And according to Huber and Hecker, facilitating the establishment and maintenance of targeted international networks will be a critical factor for successful innovation for individual firms, as well as for innovation policy in the future.
Managing innovation for environmental sustainability
Environmental challenges such as climate change, environmental pollution or water shortage ironically involve an attractive side effect for business: they will generate considerable demand for new products, services and other kinds of innovation which helps to address these issues. In addition to intelligent public policies and an entrepreneurial state (Mazzucato, 2013), there is an important role for the private sector to develop innovative solutions which help addressing the environmental problems we face today.
This is important for firm competitiveness, not only because of the environmental challenges and related tightening of environmental regulations, but also because of the increasing transparency of environmental impact and expected responsible behaviour in this regard. This aspect in all likelihood will be even more pronounced post COVID-19, with increased awareness about the destructive impact of our own actions on the environment.
Looking after our surroundings is not only the expected thing to do, it will present an opportunity for helping customers to address a real need. A combination that according to Huber and Hecker, leaves considerable scope for financially successful business models.
A new Innovation Management Systems Standard[4]
One can also not speak about successful innovation management without referring to it in the context of an interrelated system, and with particular reference to the ongoing work by ISO (International Organisation for Standardisation) concerning the ISO 56000 series of Innovation Management standards.
The new standards on innovation management, assist with capability development for organisations in innovation. It is designed to support innovation in organisations regardless of origin, type or size and intends to help organisations realise market, cultural and organisational benefits. The standards on innovation management and the guidance they provide is intended to be applicable to:
all types of organisations, regardless of type, sector, or size. The focus is on established organisations, with the understanding that both temporary organizations and start-ups can also benefit by applying these guidelines in all or in part;
all types of innovations, e.g. product, service, process, model, and method, ranging from incremental to radical;
all types of approaches, e.g. internal and open innovation, user-, market-, technology-, and design-driven innovation activities.
The following innovation management standards have already been published by ISO in collaboration with 50 participating countries, including South Africa. The custodian of the standards in South Arica is the SABS (South African Bureau of Standards). The SABS has also already adopted the published standards, where it is referred to as SANS (South African National Standards).
ISO 56000 or locally adopted as SANS 56000, Innovation management – Fundamentals and vocabulary, is the most recent of an eight-part series of standards and other guidance documents designed to help organisations use the correct terminology for innovation management. It was published early in 2020 and provides the vocabulary, fundamental concepts and principles of innovation management. It is useful for organisations wanting to make their innovation management activities visible and credible.
The scope of ISO 56000/SANS 56000 is:
To provide the vocabulary, fundamental concepts and principles of innovation management and its systematic implementation. It specifies the terms and definitions applicable to all innovation management standards developed by ISO/TC 279, the Technical Committee responsible for the outputs related to the Innovation Management standars. It is applicable to:
organisations implementing an innovation management system or performing innovation management assessments;
organisations that need to improve their ability to effectively manage innovation activities;
users, customers and other relevant interested parties (e.g. suppliers, partners, funding organizations, investors, universities and public authorities) seeking confidence in the innovation capabilities of an organization;
organisations and interested parties seeking to improve communication through a common understanding of the vocabulary used in innovation management;
providers of training in, assessment of, or consultancy for, innovation management and innovation management systems;
developers of innovation management and related standards.
Aside from ISO 56000/SANS 56000, other ISO innovation management standards in the series published in 2019, includes the following:
ISO 56002/SANS 56002, Innovation management – Innovation management system – Guidance
This standard provides guidance for the establishment, implementation, maintenance, and continual improvement of an innovation management system for use in all established organisations. It does not describe detailed activities within the organisation, but rather provides guidance at a general level. It also does not prescribe any requirements or specific tools or methods for innovation activities.
The ISO 56002/SANS 56002 standard presents guidance around 7 key elements for organisations to consider (Fig.1) when wanting to effectively manage and grow an innovation capability. These are:
context,
leadership,
planning,
support,
operations,
evaluation, and
improvement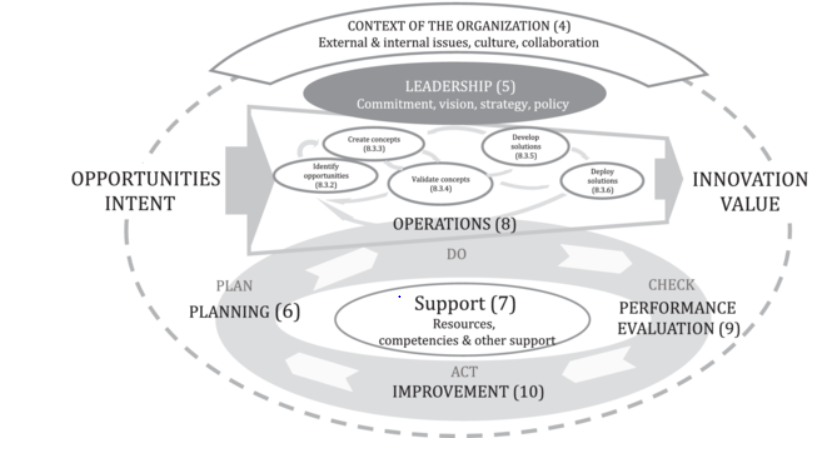 Figure 1: Representation of the framework of the innovation management system with references to the clauses of the document (Source: ISO.org)
It is further based on eight key innovation management principles.
An innovation management principle according to the document includes a "statement of the principle, a rationale of why the principle is important for the organisation, some examples of benefits associated with the principle, and finally examples of actions the organisation can take to improve performance when applying the principle." (Source: ISO.org)
The following principles are seen as the foundation of the innovation management system:
a) realization of value;
b) future-focused leaders;
c) strategic direction;
d) culture;
e) exploiting insights;
f) managing uncertainty;
g) adaptability;
h) systems approach.
ISO 56003/SANS 56003, Innovation management – Tools and methods for innovation partnership – Guidance
The standard on innovation partnerships are developed to create value for each partner working together. It describes an innovation partnership framework and the sample corresponding tools to help organisations:
decide whether to enter an innovation partnership,
identify, evaluate and select partners,
align the perceptions of value and challenges of the partnership,
manage the partner interactions.
ISO/TR 56004/SANS/TR 56004, Innovation management assessment – Guidance
This Technical Report helps users to understand why it is beneficial to carry out an Innovation Management Assessment (IMA). It gives guidance on:
what to assess,
how to carry out the IMA, and thus maximize the resulting benefits.
These are universally applicable to:
organisations seeking sustained success in their innovation activities;
organisations performing IMAs;
users and other interested parties (e.g. customers, suppliers, partners, funding organizations, universities and public authorities) seeking confidence in an organisation's ability to manage innovation effectively;
interested parties seeking to improve communication through a common understanding of Innovation Management (IM), via an assessment;
providers of training, assessment, or advice in IM;
developers of related standards;
academics interested in research related to IMA.
Other ISO 56000 Innovation Management standards currently under development, but not yet published in the ISO 56000 series are:
ISO 56005, Innovation management – Tools and methods for intellectual property management – Guidance
ISO 56006, Innovation management – Strategic intelligence management – Guidance
ISO 56007, Innovation management – Idea management
ISO 56008, Innovation management – Tools and methods for innovation operation measurements – Guidance
Work on the Innovation Management standards is expected to be completed in the next two to three years.
The Innovation League and its role in making innovation happen
Innocentrix believes that when organisations start building an innovation capability, our future will be impacted upon in a positive way. We want to play a role by facilitating this growth and to share information, stories, lessons and global trends to help organisations be more competitive and reap better rewards from their investments in innovation.
This is the reason the Innovation League exists, to recognise the unsung heroes of innovation and to provide tools, and learnings that can support organisations to do this sustainably.
The Innovation League results so far painted a picture of great progress, but showcased a stark contrast between investment and return.
Most participating organisations (80.4%) stated that innovation is key to success and many (70.4%) allocated responsibility for innovation output at Board and CEO level. Intent was strongly evident in the 86.9% that translated strategy and business unit specific goals into clear innovation goals (e.g. reduce cost, or improve customer satisfaction) but of these, only 40% tracked the investment and return made in innovation across its lifecycle.
Although innovation capability grew across the board for participating organisations in the Innovation League in 2020, innovation's Achilles heel for organisations remains to be a conscious, strategic focus on output, building the necessary know-how and developing skills, while translating this into a robust, undeniable capability for making innovation happen!
This leads us to what is next for the Innovation League.
Due to our participation as representatives for South Africa in the work done by ISO's Technical Committee for Innovation Management (ISO/TC 279 Innovation Management), Innocentrix is delighted to announce that the Innovation League's future assessment methodology will be dovetailed with the outputs of the ISO 56000 series of Innovation Management standards.
The published standards and its guiding documents has been adopted as National Standards by the SABS (South African Bureau of Standards), and the Innovation League instrument has already been amended to take cognisance thereof. This means that all organisations participating in the Innovation League going forward will automatically receive a report with a snapshot of their own performance against the Innovation Management standards. All League participants will therefore have a good view on how they are doing in relation to the latest published standards on the topic.
Together with our partners, the Innovation League will continue to recognise, support and drive innovation in today's challenging economic environment, while making available new local case studies and learnings on the topic regularly.
Keep a look out for the Innovation League Report published shortly, showcasing no less than 10 South African case studies on innovation, and follow us on Twitter, LinkedIn and Facebook, or subscribe to our mailing list, to get notified about its release.
Please contact us here should you need any more information or consult the Innocentrix.co.za website for regular updates on the latest information with regards to the ISO 56000/SANS 56000 series of Innovation Management standards and progress in this regard.
[1] "Top Strategic Predictions for 2017 and Beyond: Surviving the Storm Winds of Digital Disruption," Gartner.
[2] "IDC FutureScape: Worldwide IT Industry 2017 Predictions," IDC Research Inc.
[3] The Future of the Management of Innovation: Trends and Challenges – Achim Hecker & Franz Huber Seeburg Castle  University
[4] Large parts of the information wrg to the ISO 56000 Innovation Management series of standards has been taken from their websites. More information here https://committee.iso.org/home/tc279 and https://www.iso.org