The world of business has changed for CEO's
With transformation, the speed of change is creating a reality that is becoming more difficult to anticipate and manage. The importance of innovation is cited by many as a do or die strategic decision. How leadership reacts and how they view this scale of change is an interesting and important question. After all, it is leadership that will largely influence the organisation's direction, and in many instances set it up for success or failure. For many CEO's, the time has come, it is now or never.
CONVERGENCE AND DIFFUSSION
Most CEO's are of the opinion that they are now handling issues never grappled with before and expect rapid transformative change impacting severely on traditional business models. A significant majority recognise the important need to foster a culture of innovation, in order to respond quickly to opportunities, and to invest in new processes.
An inflection point is being created for the business sector, so great will be the impact, that most expect to run significantly transformed companies in 3 years' time. One of the main concerns of CEO's nowadays are whether their company's current products or services are relevant.
Serious questions are being asked by leadership and strategic planning sessions has innovation top of mind. It is abundantly clear, change is here and it is embracing innovation as a business discipline. This is how CEO's see the scale of this transformation according to KPMG's Now or Never 2016 CEO Outlook Report.
TEAMING UP ACQUIRES NEW MEANING
According to the report the lines separating industries, companies, technologies and customers are disappearing. We are going to see far more collaboration between organisations taking place because of the need for speed. This breadth and depth of change require unique skills, cutting-edge technologies and forward-thinking minds. No one CEO or company can have all of these attributes at the same time across the whole innovation spectrum.
As echoed by the findings of Gartner's 2016 CIO study, to succeed will require taking advantage of the whole ecosystem of partners and organisations are increasingly forming partnerships, alliances and joint ventures with startups and universities. Competitors may also be suppliers as well as customers, and all are becoming part of the innovation process. This results in a redefinition of power and responsibilities and the need for a different type of leadership. CEO's, especially South African ones, lists managing their ecosystem of partners/alliances as one of their top strategic priorities. Local organisations also view working with startups as a very important consideration, more so than their global counterparts. But managing these new constituencies requires new capabilities, some of which are still a work in progress at many companies.
This transformation is hard work, the issues of customer loyalty, the impact of the global economy and lack of time to strategically plan for the future are some of the top 5 things keeping CEO's across the world awake at night. Other issues top of mind are the critical nature of change, the company's lack of delivery on disruptive business models, cyber risk in general, effective innovation models, technology and disruption, collaboration and top line growth. All of this gets tied together with a strong customer focus and developing in-house talent.

Figure 1: Top 5 CEO concerns (Source KPMG: CEO Outlook Report 2016)
INNOVATION IN THE BOARDROOM
Although a lot of noise is being made about the relevance of innovation and the use of its terminology in a business context, for leaders, fostering innovation is the number one top strategic consideration over the next 3 years. For South African CEO's this is only trumped by concerns on how to effectively respond to regulatory change.
More experienced CEO's are anxious about new entrants disrupting their business models as they agree that navigating the next industrial revolution will require adaptability and insight, a healthy dose of realism and an fair amount of hard work. Leaders are of the opinion that innovation as a full discipline cannot be divorced from this when formulating a response.
The strategic priorities of top performing organisations notably includes themes that relate directly or indirectly to utilising innovation as a strategic lever for growth, as displayed below. Top organisations today are focusing on fostering a culture of innovation, they embed it in their businesses' day to day operations and put it at the top of their personal agendas.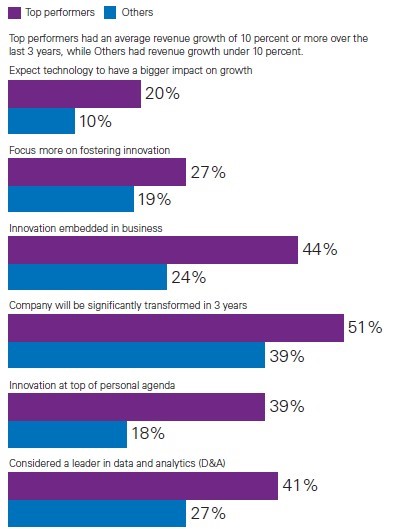 Figure 2: Strategic priorities of top performing organisations (Source KPMG: CEO Outlook Report 2016)
CEO's have clearly turned to innovation in order to address the organisational changes necessary to grow in the future. Yet, they also feel their organisations have work to do in embedding innovation into their everyday operations.
This thinking is evident from Figure 3 below, displaying the approaches adopted for innovation within organisations on a global and local level.
Global organisations rank themselves as adopting an accelerated approach to innovation, stating that it is regularly occurring in their organisations within a defined approach. But as echoed by our SA Innovation League results, effective innovation management is still viewed as a challenge by many local leaders who see their companies addressing innovation in a more ad-hoc manner. South African CEO's admit to a more foundational approach in managing innovation.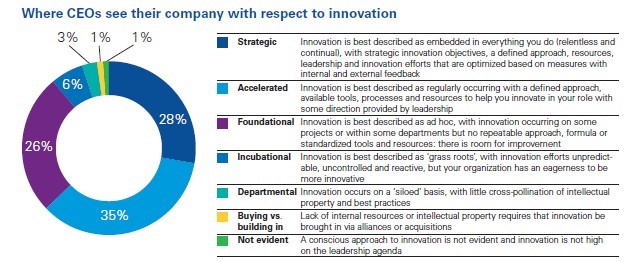 Figure 3: The state of innovation in top organisations (Source KPMG: CEO Outlook Report 2016)
TECHNOLOGY AND SPEED
The fourth industrial revolution ushers in the era of the Internet of Things, machine learning, cognitive computing and artificial intelligence.
Today, customers expect constant innovation of products, and they often want their input to be included in product design. Almost half of the CEO's surveyed think they are not keeping pace with meeting customer expectations or they are not connecting with their customers enough via digital means.
CONFIDENCE AND FUTURE GROWTH
Overall, short term optimism is subdued, but most global CEO's are very optimistic in their outlook, however, CEO's prospects vary globally depending on the economies and industries they operate in. It bodes well for the future that CEO's today are not waiting out tough times. Interestingly, they highlighted primary sources of future growth as coming from: new products, new customers, new markets and new channels.
Growth into new markets and geographies are also important considerations for global and local CEO's alike. But where to invest?
Regions viewed by global respondents as having the best potential for new market growth was India and China, while in South Africa, Brazil was the no 1 consideration.

Figure 4: Best regions for market growth (Source KPMG: CEO Outlook Report 2016)
Conversely, regions viewed by global CEO's as loosing appeal were Russia, the Middle East and Japan. It included Sub-Saharan Africa, often viewed as a continent of opportunity by many. Although geographical expansion was one of the top 3 priorities for South African CEO's, they were going to focus less on the Middle East and North Africa and consider turning to the promise of Brazil and China to maximise investment in growth.
CONCLUSIONS
Leaders speak from one voice when they say that the next 3 years will be critically transformative. A resilient approach will have to take note of especially the following:
Vulnerability – You are not alone. CEO's are revealing their concerns about meeting the demands of the future, facing all angles of disruption and finding ways to pre-empt them.
Ecosystems – Traditional boundaries and roles no longer apply. The lines separating industries, companies, technologies and customers are disappearing.
Agility – The speed of change is limiting visibility into the future, making short- or medium-term strategies risky.
Customer-centricity – With the ability to communicate with the customer via digital channels, it is crucial to discern what customers truly want.
Trust – Trust takes on additional importance in the age of data. With so many strategic decisions now riding on the output of D&A or algorithms, there must be a heightened focus on the accuracy of data.
Risk – The fourth industrial revolution, the age of the Internet of Things, machine learning, cognitive computing and artificial intelligence, increases security risks exponentially. It is important to find ways to manage it.
More so than possibly ever before, for Africa the message is critical. We depend on good governance, visionary leadership and accountable organisations to transform Africa into a hub of competitive advantage. Off course, this is the reason we started the SA Innovation League; to encourage innovation in our top local organisations so that we can start building an innovation capability to the benefit of national growth!
The information provided here is summarised from the Report by KPMG – Now or Never 2016 CEO Outlook. KPMG recently gathered the views of nearly 1,300 CEO's from many of the world's leading companies, located in 10 of the world's largest economies, to better understand their comparative views of the forces and opportunities shaping their businesses. This piece presents a summary of that report. 
For a full copy of the report, click here. Also keep a look out for our analyses of the South African results published by KPMG as part of this study.
The Innovation League report, published by Innocentrix will unpack innovation management practises in South Africa. Follow us on Twitter, LinkedIn and Facebook to get notified of its release.